I love the flavors used in Greek cuisine. I saw this recipe from
Proceed with Caution
(Originally from
EveryDay Food
) This recipe was so easy to do and tasted great. We served it with roasted broccoli & garlic couscous. File this one away for a quick & easy weeknight meal.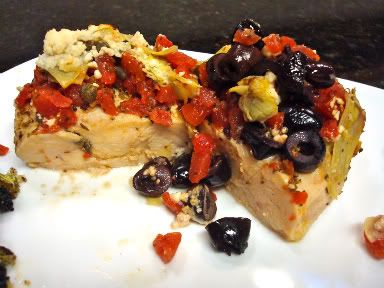 Mediterranean Chicken Packets

4 boneless, skinless chicken breast halves (6 to 8 ounces each)
Ground pepper
1 can (14.5 ounces) diced tomatoes, drained
4 artichoke hearts (from a 14-ounce can), quartered
12 Kalamata olives, halved and pitted
4 teaspoons capers
1/2 cup crumbled feta (2 ounces)
1/2 teaspoon Italian seasoning ( I used the same amount but Greek Seasoning instead of Italian )
Preheat oven to 375 degrees. Place four 12-inch squares of parchment paper or heavy-duty foil on a work surface. Place a chicken breast on one half of each square, leaving a 2-inch border; season with pepper.
Dividing evenly, top chicken with tomatoes, artichokes, olives, capers, and feta. Sprinkle with Italian seasoning. Fold parchment over ingredients, and crimp edges to seal.
Place packets on a rimmed baking sheet. Bake until chicken is opaque throughout, 20 to 22 minutes.