I love Cantaloupe. Cancy loves Ice Cream. I had a fresh Organic Cantaloupe from Whole Foods sitting in our fridge, wanting to be made into something good. I came across this recipe… Now I had a plan.
We tried this recipe tonight and turned out great. There's a lot going on in this recipe so it's nice to make this recipe with someone else. It makes a whole bunch of Ice Cream. We actually had some of the mix leftover because it wouldn't fit in the Ice Cream Maker. All in all, it was the very best Cantaloupe ice Cream that I've ever had.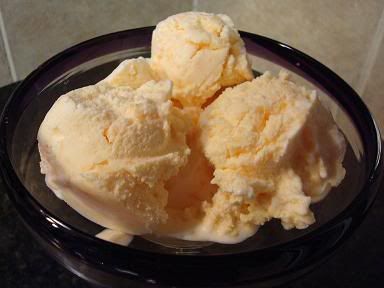 Ben & Jerry's Cantaloupe Ice Cream
1 large Cantaloupe, very ripe
1 Lemon, juice of
Ben & Jerry's Sweet Cream Base*
Cut the cantaloupe in half and clean out the seeds. Scoop the fruit into a mixing bowl, add the lemon juice, and mash until the fruit is purred. Drain the juice into another bowl and reserve. Cover the melon puree and refrigerate. Prepare the sweet cream base and whisk in the fruit juice. Transfer the mixture to an ice cream maker and freeze following the manufacturer's instructions. After the ice cream stiffens, about 2 minutes before it is done, add the cantaloupe. if more juice has accumulated, do not pour it in because it will water down the ice cream. Continue freezing until the ice cream is ready. Makes 1 generous quart.
*Sweet cream Base:
2 Large Eggs
3/4 Cup Sugar
2 Cup Heavy or whipping cream
1 Cup Milk
Whisk the eggs in a mixing bowl until light and fluffy, about 2 minutes. Whisk in the sugar, a little at a time, then continue to whisk until completely blended, about 1 minute more. Pour in the cream and milk and whisk to blend.
Makes 1 quart.