I've come to the conclusion that casseroles just do not photograph well. The Chicken Cordon Casserole tasted a lot better than it looks. This actually came together by cleaning out the fridge a little bit. Well, that & this is for sure the lazy girl's version of a Chicken Cordon Bleu. I just wanted to throw everything together and bake so now filling, breading, and rolling here. Just a nice easy chop, dice, layer & bake. J I hope you like it.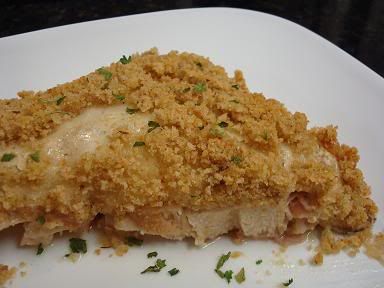 Chicken Cordon Blue Casserole
2 large or 3 normal sized chicken breasts
1/4 pound sliced honey ham
1/4 pound sliced Swiss cheese
1 red onion, diced
1 tsp Nutmeg
1 Tbsp whole wheat or white flour
2 Tbsp Dijon Mustard
1 1/2 Cups of Fat Free ½ & ½
1 Cup plain breadcrumbs
3 Tbsp Butter
Boil Chicken until done, remove and dice. In same pan, cook ham just until it starts to brown. In a greased 8 x 8 dish, layer the diced chicken, sliced ham, and 1/2 of the Swiss cheese. Set aside.
Sauté diced onion until it starts to turn slightly golden. Sprinkle Nutmeg & flour over onion and cook the flour for about a minute. Add the ½ & ½ to the pan & the Dijon mustard. Cook until it thickens, about 3-5 minutes,
Pour onion mixture over layers already in the pan. Top that with the remaining Swiss cheese. Melt butter & toss with breadcrumbs. Sprinkle that over top.
Bake @ 350 for about 30-40 minutes.