I was trying to think of something to make with the crockpot today and Cancy mentioned Hamburger Stew. It was one of his bachelor foods. There's no real recipe for this. We just went through the pantry and grabbed things that would work together. It smelled really good simmering away in the crockpot all day. And for as simple as it is, it tastes delicious.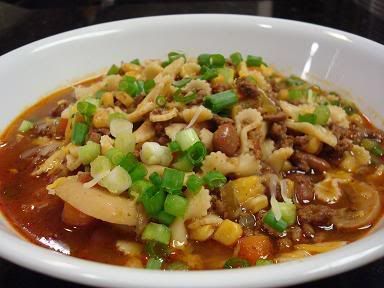 Crockpot Hamburger Stew
1 pound hamburger
1/2 Onion, chopped
1/2 Cup of carrots, chopped
2 cloves chopped garlic
1 packet of taco seasoning
1/2 packet of ranch seasoning
1 can Rotel
1 can Ranch Style Beans
1 can Mexicorn, drained
1 can sliced new potatoes, drained
1 small can mushrooms, drained
1 small can chopped green chiles
4 cups beef broth
1 Cup of small pasta
This makes a lot. Make sure that your crockpot is at least 5qts.
Brown the hamburger with the chopped onions, carrots, & garlic on the stove top. While browning, add the taco seasoning & ranch seasoning. Drain the fat.
Open all of your cans, and dump them into the crockpot. Drain the corn and the potatoes, but add the rest of the can liquid to the crockpot.
After adding all of the canned items into the crockpot, add the browned meat and the 4 cups of broth. Stir to mix.
Cover and cook on low for 8-10 hours. Cancy says the long this cooks, the better it tastes, so try to go the whole time. Add the small pasta about 30-45 minutes before you are ready to eat and continue cooking on low.
Top with green onions when serving & a sprinkling of shredded cheese.