So Cancy's favorite once in awhile snack has finally made an appearance on the blog. He cooked this for lunch today. I guess it takes him back to his childhood. This is true Southern Food.
This is really not the healthiest thing in the world, however I have a feeling this is something that Paula Deen would love. It tastes pretty good, but I feel guilty if I eat more than 1/2 a sandwich because I know how much I'd need to work out to work it off. But for the every so often snack, why not try the Fried Potato Sandwich.

J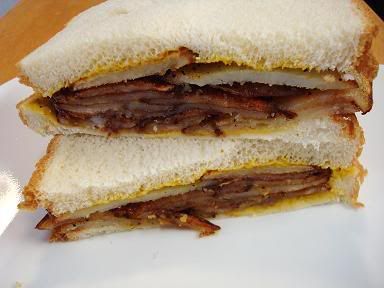 Carb-Tastic Man Food… aka: The Fried Potato Sandwich
4 medium size red potatoes
Slice potatoes thinly. Brown potatoes in hot oil until crispy. Drain on paper towels and season with salt & pepper.
Spread mustard on the bread. Add cooked potatoes to 2 of the 4 slices of bread. Top with remaining bread. Eat warm.