I love Hatch Chile season. It's over here in central Texas, but this is one I made before freezing the rest of my chiles. Thank You to the grocery store for providing a pretty tasty little recipe. If you don't have Hatch chiles, I'm sorry. L You could probably get pretty close to the same result if you use canned green chiles from your grocery store.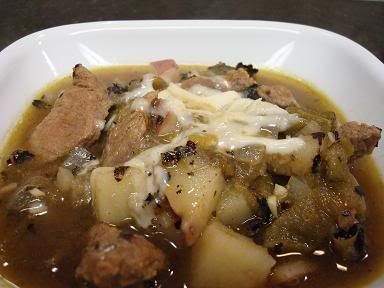 Hatch Green Chile Stew
1 1/2 lb lean stew meat (approx. 3/4" cubes)
1/2 medium onion
3 C Water (I used chicken broth)
3-4 cloves of garlic, minced
8-10 roasted, peeled, & diced New Mexico Hatch Green Chiles
2-3 potatoes, diced (I used 3 small red potatoes)
Salt to taste
1/4 tsp. Cumin (We also added about 1/2 Tbsp of Goya Adobo Seasoning)
Sear stew meat in a large skillet, adding onions the last 5 minutes. Add water (broth) & garlic to simmer until meat is tender. (Additional water may be added if necessary) Add in Hatch chiles, potatoes, salt & cumin. Simmer until potatoes are tender.
** We topped our stew with some shredded Queso Blanco.