I wanted something easy tonight since I had lots of random things to do around the house. I've had this recipe starred in my Google reader for awhile now. This comes from Clara @ iheartfoodforthought.
I scaled her recipe down to an 8 x 8 baking dish since it's just Cancy & I. Plus this gives us some leftovers to freeze for later. Oh, we added a whole bunch of black pepper to this before mixing just to give it that extra little something. Enjoy!!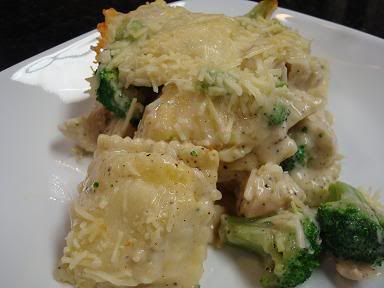 Ravioli Chicken Broccoli Alfredo
1 lbs pre-packaged 4-cheese ravioli, cooked and drained
1 1/2 cups frozen broccoli florets, defrosted
1 pound of boiled skinless chicken strips, diced
Alfredo sauce (I cheated tonight & used a jarred light alfredo sauce)
2 cloves garlic, minced
1/2 cup mozzarella cheese, divided
1/3 cup Parmesan cheese

Preheat oven to 350 F degrees.
Coat the bottom of an 8 ×8 glass baking dish with a thin layer of alfredo sauce. In a medium bowl, mix the ravioli, broccoli, chicken, garlic, alfredo sauce, 1/2 of the mozzarella cheese until combined. (Be careful not to mix too hard that you tear the ravioli.)
Place mixture into baking dish and top with the rest of the mozzarella and parmesan cheese.
Bake for 20 minutes or until cheese is hot and bubbly. Set to broil for additional 5 minutes if you want it more toasty!