This recipe comes from our Port Aransas cookbook that we got down in Port A when we got married. We've been back a handful of times since then and enjoy it each and every time. I got the cookbook out because I started thinking about Port A again since we started to plan a trip down there at the end of the month with Cody & Carol.
I've made this recipe a few times and am going to put it in my own words as the original instructions are a bit all over the place. This is a great Fall type dish and a good way to get some vegetables. We've made just a couple of ingredient substitutions, but here is how we like it.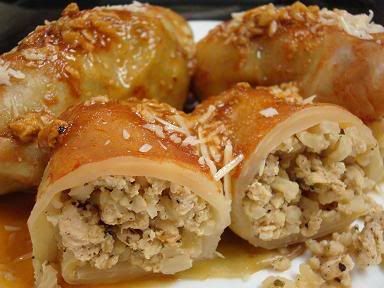 Stuffed Cabbage Rolls
12 Large Cabbage leaves
1 lb Ground Turkey
1 Beaten Egg
1/4 C Milk
1/4 C finely chopped onion
1 Tsp Salt
1 Tsp pepper
1 Tsp lemon pepper
1 C Cooked Rice
1 8oz can of Tomato Sauce
1 Tbsp Brown Sugar
1 Tbsp Lemon Juice
1 Tbsp Worcestershire
Start by browning your ground turkey. Season your ground turkey as it browns with garlic salt & lemon pepper. When this is done, drain and set aside.
Start water boiling in a large pot for your cabbage. The easiest way that I've found to get the leaves off is to submerge the whole head of cabbage for a couple of minutes and pull it out, taking as many leaves off as you can easily. Submerge again until you can pull a few more off. You want to keep the leaves as in tact as possible. Do this until you have about 12 whole leaves.
In a large bowl, combine the ground turkey, egg, milk, onion, spices, & rice. Mix well. Take about 1/4 C of this mix and put into the center of a leaf. Fold in the sides, then fold up the bottom until it looks like a little burrito. Place them seam side down in the Crockpot until you have gone through your leaves or ran out of stuffing.
In another bowl, combine the tomato sauce, brown sugar, lemon juice, & Worcestershire. Pour this over your little cabbage burritos and put the lid on the Crockpot. Cook these in the Crockpot on low for about 6 hours.