I have had this recipe from Polly stored in my Google Reader forever. This originally is a Giada de Laurentiis recipe. I love balsamic vinegar so this was perfect. I made it this time using chicken thighs, but I think this would be even better using boneless/skinless chicken breasts.
Anyway the vinegar, Dijon, lemon zest, & parsley all play really well together in this dish. We had this with rice pilaf & green beans. I hope you like it. J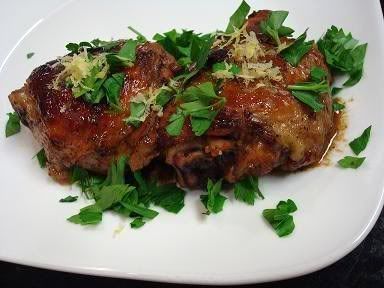 Roasted Chicken with Balsamic Vinaigrette

1/2 c. balsamic vinegar
1/4 c. fresh lemon juice
1/4 c. Dijon mustard
3 cloves of garlic, minced
1 tsp. salt
1 tsp. freshly ground black pepper
1/2 c. olive oil
Chicken, cut into 6 pieces (I used chicken thighs, but breasts would be delicious too) chopped fresh flat-leaf parsley
1 tsp. grated lemon zest

In a 13×9x2″ baking dish whisk the vinegar, lemon juice, mustard, garlic, salt and pepper to blend.  Whisk in the oil.  Add the chicken pieces and turn to coat.  Cover and refrigerate, turning the chicken pieces occasionally, for at least 2 hours and up to 1 day.
(I added all of the marinade ingredients to a Ziploc bag, shook it around and added my chicken, squeezed out all the air, and used that to keep everything in until I was ready to cook)
Preheat the oven to 400F.  Roast the chicken uncovered until just cooked through, about 45 minutes.  Using tongs, transfer the chicken to a serving platter.  Carefully pour the cooking liquid into a small, heavy saucepan and spoon off the excess oil from atop the cooking liquid.  Boil until the liquid reduces by about half and thickens slightly, about 8 minutes.
Pour the sauce over the chicken.  Sprinkle the parsley and lemon zest over the chicken and serve. 
If the chicken gets too dark too quickly, cover it with foil, taking the foil off for the last 10 minutes of roasting.