Think of this recipe as a way to use the vegetables in your refrigerator. You can play with the ingredients here to use what you have. It's a super easy weeknight meal, just start your marinade before you leave for work and it will all cook up pretty quickly.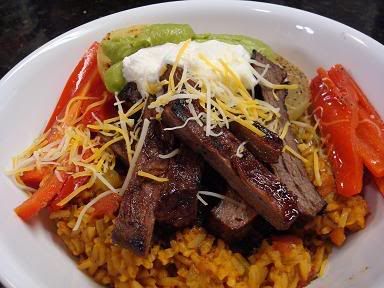 Grilled Fajita Bowls
1 1/2 to 2 pounds of skirt steak/fajita meat
Marinade: Worcestershire Sauce, Lime Juice, White Vinegar, Liquid Smoke, Red Chili Flakes, Olive Oil.
Vegetables: red/green pepper, onions, whatever you feel like.
Rice: Any Spanish Rice will do. I have a super easy Spanish rice recipe here,  in my blog.
Marinade your fajita meat for at least 8-12 hours. Start your meat on a medium heat on the grill.
Slice up your veggies and sprinkle with some red pepper flakes, salt & pepper. Put these on a piece of foil with a Tbsp of butter & make into a little foil packet. Set this on the grill with your fajita meat & turn grill down to low.
While meat and veggies are on the grill, cook your rice. When the meat is ready to come off the grill, slice on the bias into little strips.
When ready to serve, Put rice in the bowl, layer your fajita meat & grilled vegetables on top. We also topped ours with a dollop of sour cream & guacamole as well as some shredded cheese.