This recipe comes from Janae. It seemed like a great side to the Lemon chicken with Guacamole Sauce that we made the other night. This is a good way to use any veggies you might have in the fridge and gives you kind of a nice Southwestern flair.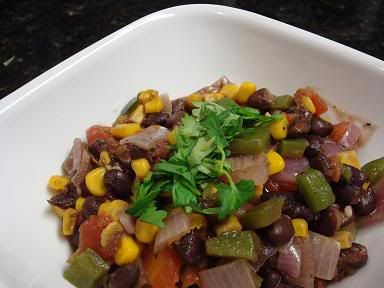 Black Beans with Corn and Rotel
Cooking spray
2 cloves minced garlic
1 cup fresh corn (1 ear of corn)
1/8 cup fresh lime juice (about 1 lime)
1 can Rotel Tomatoes
1/2 cup diced red or green bell pepper
3/4 cup diced red onion
1/8 cup chopped fresh cilantro
2 tablespoons minced seeded jalapeño pepper
½ T chopped fresh (or dried) oregano
¼ teaspoon ground cumin
¼ teaspoon ground coriander
¼ teaspoon salt
½ tsp black pepper
1 (19-ounce) drained can black beans

Heat cooking spray in a skillet on Medium-high heat. Add garlic, onion, green (or red) bell pepper and sauté for about 2 minutes. Add corn; sauté 8 minutes or until browned.

Next add the lime juice, all of the seasonings, jalapeño, Rotel, and Black Beans. Cook for about 10 more minutes on Med-Low heat.

Lastly, add the chopped cilantro (to garnish).