I have a confession. For as much as I enjoy cooking, baking terrifies me. Always has... Yeah sure I'll bake up some cookies or throw a boxed cake mix in the oven, but baking? With yeast? Oh no, no, no.
Well, no more. I followed Annie's directions to a T and made the most delicious Honey Yeast Rolls. They made the house small amazing, they tasted wonderful, and now… Now I just may bake more often.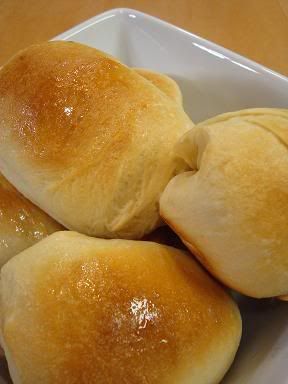 Honey Yeast Rolls
2 ¼ tsp. instant yeast
1 cup warm water (105°-115° F)
¼ cup honey
3 tbsp. canola oil
1 ¼ tsp. salt
1 egg, lightly beaten
4 cups bread flour
vegetable cooking spray
1 tbsp. butter, melted
1 tbsp honey

In the bowl of an electric mixer fitted with the paddle attachment, combine the yeast and warm water.  Add the honey, oil, salt, and egg and mix well.  Add 3 cups of the flour and mix until the dough comes together in a sticky mass.  With the mixer on low speed, add the remaining 1 cup flour and mix until it is incorporated into the dough.  Switch to the dough hook, and continue kneading on low speed until the dough is smooth and elastic, about 8 minutes.
Form the dough into a ball and transfer to a lightly oiled bowl, turning once to coat.  Cover the bowl with a damp kitchen towel and let the dough rise in a warm, draft-free spot until it doubles in bulk, about 2 hours.
Turn the dough out onto a lightly floured surface and knead for 30 seconds.  Cover and let rest for 10 minutes.
Punch the dough down and divide into 12 equal portions.  Shape each portion into a ball and place into a round, lightly greased baking dish, spacing evenly.  Cover and let rise in a warm, draft-free place for 20 minutes.  Mix together the melted butter and honey, and brush lightly over the tops of the rolls.  Bake at 400° for 13-15 minutes or until lightly browned.  Serve warm or at room temperature.