This is a version of chili that I made last week. Usually with chili, I just throw in whatever. It's different every time. This time, I wanted to use a can of Modelo beer that we had in the fridge. I'm not quite sure how it got there, but this was a tasty way to get rid of it.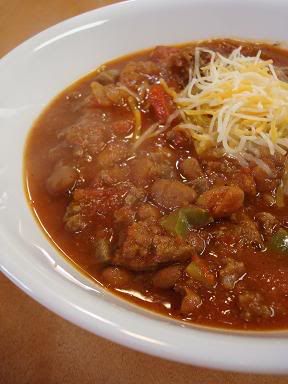 Manly Beer Chili
1/2 pound beef stew meat
1/2 pound ground beef
1 large onion, chopped
1 green pepper, chopped
2 cans of beans, I used Ranch Style pinto beans & Bush's Chili beans
1 28oz can of whole, stewed tomatoes
1 can of beer
Seasonings ( I used salt & pepper, cumin, red pepper flakes, chile powder, and some Frank's Red Hot)
Brown the meats until done, remove from the pan. Drain off any remaining grease. In same pan, cook the chopped onion & pepper until soft. You may need to add some Olive Oil here. Salt & pepper the vegetables and remove once done, but keep pan on medium heat.
Add the can of beer and cook until reduced by about half. Once beer has reduced, the meat and vegetables back to the pot. Empty in the cans of beans & add the can of tomatoes.
Season to taste (for us, the spicier, the better). Turn heat to low and allow to simmer for at least an hour. You may need to re-season before serving.
When ready to eat, feel free to top your chili with whatever you choose. We usually do sour cream and shredded cheese. Sometimes, we'll add crushed tortilla chips.