Another yummy recipe from the grocery store. Who would've thought?
HEB's Showtime ad usually has some good recipe ideas. Especially good recipes ideas when it comes to a busy weeknight. I put this recipe together in all of 10 minutes.  It was a pretty tasty combination and we served it up with some black beans.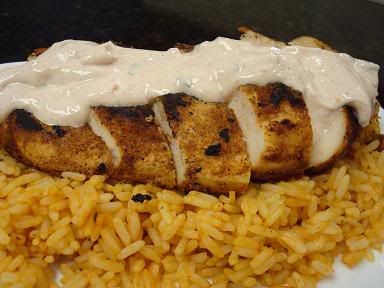 Taco Chicken with Spanish Rice
1/2 cup Sour Cream
1/2  jar (7 ounce) Green Chile Salsa
2 Tablespoons Fresh Cilantro, chopped
1 pkg. (1 1/4ounce) taco Seasoning Mix, divided
2 large chicken breasts
1 bag (16 oz.) Spanish Rice (I cheated and used steamable Spanish Rice from my grocery store. If you can't find that, just make any Spanish Rice)
Combine sour cream, salsa, cilantro and one teaspoon taco seasoning mix in a bowl; stirring well. Cover and chill up to 8 hours, if desired.
Toss chicken with remaining taco seasoning mix.
Cook chicken in a large non-stick skillet coated with vegetable spray over medium-high heat for 6-8 minutes or until done.
** I added some lime juice while the chicken was cooking for an extra little layer of flavor.

Serve immediately with Spanish rice and seasoned sour cream dip.