This recipe came from a blog called "My Baking Heart". She posted this recipe and I've had it save for ages now and finally decided it was time to try it. The Fritos have got to be a Texas thing. I've never cooked with them before moving here. Cancy is a huge fan of Frito Pie (we might make & post that sometime soon), but then this Frito Salad recipe came up and Cancy said he remembers eating something like this when he was younger. It must be a Southern thing. So grab yourself a bag of Fritos and serve up a really easy, quick weeknight dinner.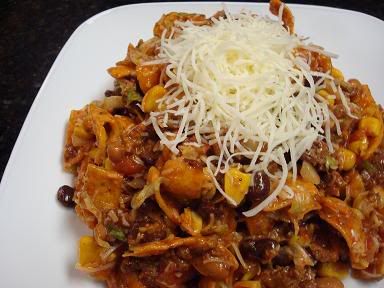 Frito Salad
1 can pinto beans, drained
1 can black beans, drained and rinsed in cold water
1 can corn, drained
2 tomatoes, chopped (remove seeds & juice)
1 sm. onion, chopped
1 sm. bottle fat-free Catalina dressing
1 sm. bag of original Fritos
1/2 lb. cooked hamburger (optional - I used it this time)
shredded lettuce
shredded carrots (I didn't use any carrots)
shredded cheddar cheese
Mix all ingredients together in large bowl. Top with fat-free sour cream if desired.