If there is one type of food that Cancy & I absolutely agree on every time it's sushi. We have a habit of going to Beluga's (our favorite local sushi place) about twice a week. We love everything/everyone there.
This weekend though, I decided to try my own sushi. I had this recipe star'd in my Google Reader from The Way The Cookie Crumbles. I grabbed some fresh Yellowfin Tuna and began my experiment. It was actually really good.
J
All of the sushi flavors in a bowl. How easy & inexpensive. Be brave. Try it out.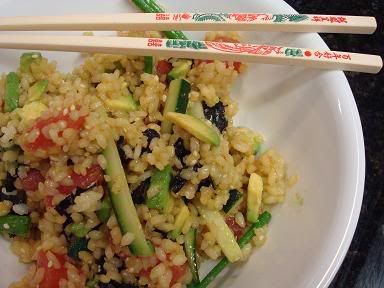 1
⅓
cup sushi rice, rinsed well (this will turn out best with real sushi rice instead of just regular white or brown. It should be found at your supermarket)
¼ cup soy sauce
wasabi to taste
4 teaspoons rice vinegar
4 teaspoons sugar
½ teaspoon salt
2 (8 by 7-inch) sheets nori, cut into strips 1½ inches long and ⅛ inch wide
1 avocado, pitted, flesh scooped from skin and cut into chunks 1 inch long and ¼ inch wide
1 cucumber, peeled and cut into matchsticks 1½ inches long and ⅛ inch wide
4 green onions, halved lengthwise and cut into strips 1 inch long
8 ounces sushi-grade fish, preferably tuna
¼ cup sesame seeds, toasted
Rinse the rice. Place the rice and water in a medium saucepan and bring to a boil over high heat, uncovered. Once it begins to boil, reduce the heat to the lowest setting and cover. Cook for 15 minutes. Remove from the heat and let stand, covered, for 10 minutes.
Meanwhile, combine the soy sauce and wasabi in a small bowl. Combine the rice vinegar, sugar and salt in a separate small bowl and heat in the microwave on high for 30 to 45 seconds, until the sugar dissolves. Transfer the rice into a large wooden or glass mixing bowl and add the vinegar mixture. Fold and cut thoroughly to combine and coat each grain of rice with the mixture. Fan until rice is near room temperature. Do not refrigerate.
Combine rice, wasabi mixture, and remaining ingredients. Serve.