And another winning recipe from Elly. I've yet to try a recipe of hers that comes out anything less delicious. Here is the link to the original recipe and here is the link to Elly's new site.
This was a great combination of flavors that goes together really easily. I promise you'll like it. We did.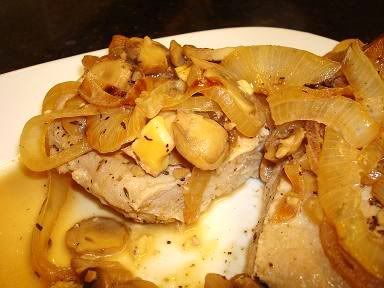 Pork Chops with Smoked Gouda, Caramelized Onions and Mushrooms

2 pork chops
1 oz. shredded or sliced smoked gouda
1 tsp. olive oil
1 Tbsp. butter
1 yellow or vidalia onion, cut in half and sliced
2 sprigs thyme
2 cloves garlic, minced
1 cup cremini mushrooms, sliced
2 Tbsp. dry sherry or marsala
1/3 cup beef broth
salt and pepper

Preheat the oven to 350. Slice a pocket into each pork chop and fill it with the gouda. Season the chops with salt and pepper. Heat an ovenproof skillet over medium heat and add the oil. Sear the pork chops for about a minute per side, just to brown them. Move the chops to a baking dish and cook in the oven until just slightly underdone.
Meanwhile, melt the butter to the skillet in which you pan-fried the chops, over low heat. Stir in the onions and thyme and cook over low heat until golden brown, stirring occasionally--about 15 minutes. Add the garlic and the mushrooms and cook for an additional 2-3 minutes.
Increase the heat to medium high and add the sherry. Scrape up all the browned  bits from the bottom of the pan and cook until the sherry is almost completely evaporated, a couple minutes. Stir in the broth and cook it for another couple minutes to reduce it, slightly, too. Season to taste with salt and pepper. Add the pork chops back into the skillet, spooning the onions and sauce over them. Place the skillet in the oven for about 5 minutes or until the pork chops have cooked and the sauce has thickened slightly.