It was feeling like winter earlier this week in Central Texas. No better time to make chili. I made a red chili not too long ago and remembered having white chicken chili when we lived in Minnesota. So this is my version using Hatch green chile peppers (which are a favorite among most in Central Texas). Also, I added a shot of Tequila to this recipe to give it a little bit of a kick. Enjoy!!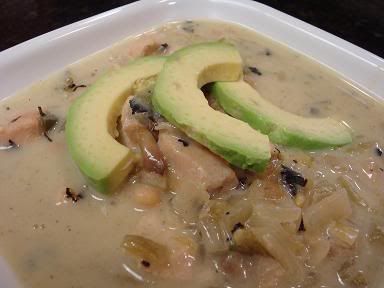 Hatch White Chicken Chili with a shot of Jose
1 pound of chicken (I used fajita marinated chicken from the grocery store)
3 hatch chile peppers, seeded & diced
1 large onion, chopped
1 jalapeno, seeded & diced
2 or 3 cloves of garlic, minced
1 14.5 oz can of white Northern beans
1 shot of tequila
Juice of 1 lime
4 Cups (1 box) of chicken stock
4 oz of Cream cheese (I use fat free cream cheese)
1/2 Cup Fat Free 1/2 & 1/2
Cook chicken until no longer pink. Set aside to cool. Chop into bite sized pieces.
In the same pan, over medium-high heat sauté the onion, garlic, & peppers until the onions are soft & translucent. Add beans. Add chicken back into pan and stir to combine.
Pour tequila & lime juice into pan, stirring mixture to coat. Add chicken broth and raise heat to high just until boiling. Turn to a low simmer and add cream cheese by breaking up into small pieces as you put in the pan. Stir and continue to simmer, covered for at least 15 minutes.
Add 1/2 & 1/2 and stir through. Keep on heat for another 5 minutes before serving.
Once soup is in the bowl, you can top with avocado, shredded cheese, or a crumbling of tortilla chips.