Another winner from Pioneer Woman. This time it comes from Pastor Ryan (one of her guest bloggers). What an easy side dish and a very tasty way to use a zucchini. We had this as the side dish to our tuna pasta casserole and felt very deliciosly full afterwards.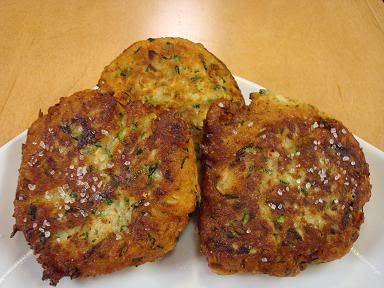 Zucchini Cakes
1 large Zucchini
1 Tbsp minced garlic
1/2 - 3/4 Cup of bread crumbs
1/2 Cup 4-Cheese Italian Blend shredded cheese (or Parmesan or Romano)
2 eggs
Kosher salt
Freshly Ground Black Pepper
Olive Oil
Wash & cut the ends off of one large Zucchini. Shred it using the large holes of a cheese grater. Squeeze the shredded zucchini inside of a clean towel until you've removed as much liquid as possible.
Place shredded zucchini into a medium sized bowl. Add minced garlic, breadcrumbs, cheese, egg, and Salt & Pepper to taste. Stir with a fork until well mixed.
Heat Olive Oil (about 1/4 inch deep in the bottom of skillet) to a medium heat. When the oil is hot enough, drop a glob of zucchini batter into the skillet and flatten it a bit. After about two minutes, turn the cakes over (they should be a nice golden brown) and cook on the other side until done.
You could dip these in whatever you like. We had them with just a sprinkling of sea salt.