This recipe has been in my Google reader for quite some time. This comes from "Bitchin' in the Kitchen". These burgers were delicious. Plus, I can think of a bunch of different uses for the sauce. I've done something similar in the past on top of fish.
Anyway, if summer is running out on you or you just want to use your grill, then try this out. I promise you will not be disappointed.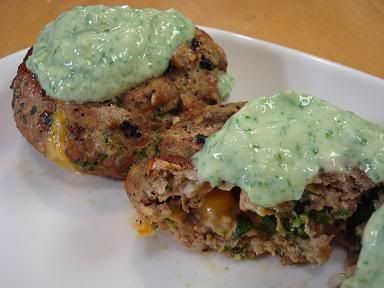 Cheddar stuffed cilantro jalapeno turkey burgers with cilantro cream --mucho spicy!
Burgers:
1 lb ground turkey
2 large cloves garlic, minced
1 Jalapeno, seeded & finely chopped
1 C fresh cilantro, chopped
1/2 tsp cumin
salt and pepper
8 cubes Colby cheese
Cilantro Cream Sauce:
1 Jalapeno, seeded & chopped
1 C sour cream
zest and juice of 1 lime
1 large clove garlic, minced
1/2 C fresh cilantro

Process all ingredients for cilantro cream sauce in blender or food processor. Cover, and refrigerate.

 


Mix all ingredients for burgers, except Colby cheese, in a bowl. Form into 4 burger patties. Place 2 cheese cubes on each burger and fold over and reform into patties. Grill until done then top with cilantro cream sauce before serving.