We have a new favorite snack. Steamed Edamame. We get it every time we go to Beluga's for sushi. We have bags of it on our freezer waiting to be steamed and sprinkled with sea salt. I think it's currently, our very favorite vegetable.
This recipe actually was inspired by an idea in the ad for the grocery store. Also, I was able to empty out the fridge & freezer a little bit for this one. We served this with egg drop soup and were stuffed by the end of dinner. It comes together quick so it's an easy weeknight meal.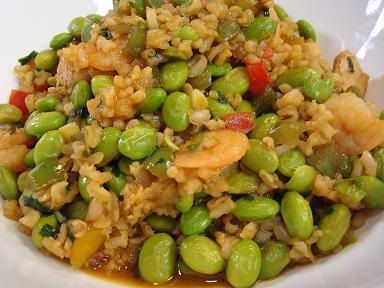 Teriyaki Edamame rice bowls with chicken & shrimp
1 Cup of cooked brown rice
1 Tbsp Olive Oil
1 large boneless, skinless chicken breast, cut into 1/2" pieces
1/2 Cup of shrimp
1 16oz bag of frozen, shelled edamame
1/4 Cup each, diced green pepper, diced red pepper, diced yellow pepper
1/2 Cup of Low Sodium Teriyaki Sauce
1/2 Cup of fresh cilantro, chopped
2 green onions, chopped
Heat a large skillet over medium heat for about 3 minutes
Add the olive oil & chicken pieces. Stir-fry for 5 minutes (until chicken is golden)
Stir in the edamame, peppers, shrimp, and Teriyaki sauce. Bring the mixture to a boil & cook, stirring constantly for about a minute.
Stir in the rice, cilantro, and green onion. Cook for an additional 2-3 minutes. Serve.