In Texas, for a few weeks every August, you seem to find Hatch chiles everywhere. We've tried Hatch chile chips. A Hatch chile cheese ball, Hatch chile salsa, you name it. Last week, my grocery store was roasting fresh Hatch chiles out in front of the store and selling the roasted peppers by the pound. I had to try 'em out.
After looking at them in our fridge for a couple days, I decided to dig through the internet to find a great recipe to use them in. I didn't have to look far. I found this casserole on "Culinary Capers with the Christmases." I adapted her recipe a little bit to make less and to use my Hatch chiles. Both Cancy & I thought it turned out really well. I hope you like it.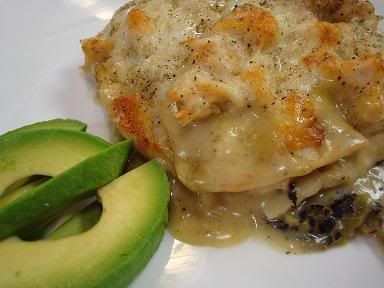 Green Chile-Chicken Casserole
3/4 C low sodium chicken broth
1 C chopped roasted Hatch green chiles
1/2 C fat-free sour cream
3/4 tsp salt
1/2 tsp ground cumin
1/2 tsp freshly ground black pepper
1 (10 1/2-ounce) can condensed cream of chicken soup, undiluted
1 garlic clove, minced
8 (6-inch) corn tortillas
1/2 lbs shredded cooked chicken breast
1 C shredded cheese (We used a Mexican Queso Fesco)
Preheat oven to 350°.
Combine the first 8 ingredients in a large saucepan. Whisk together. Bring to a boil, stirring constantly. Remove from heat.
Spread 1/2 of the soup mixture in a 8x8 -inch baking dish coated with cooking spray. Arrange 4 tortillas over the soup mixture. Spread 1/2 of the chicken over tortillas. Top with 1/2 of the cheese.
Repeat layer once more, ending with the cheese. Bake for 30 minutes or until bubbly.