Oh My Gosh!!! I don't think I'll ever buy hummus again. I didn't change a thing in this recipe that I found over @ Noodle Nights & Muffin Mornings. I didn't have to. It was perfect. So easy to throw together and tastes even better the next day. You'll definitely want to try this.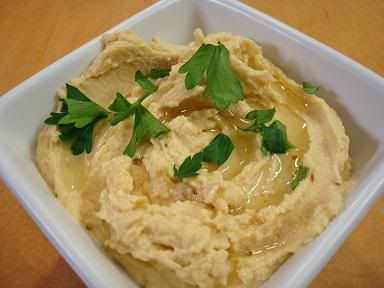 Garlic Lovers Hummus
1 15 oz can chick peas(refrigerated)
3 cloves garlic
1 tsp red pepper flakes
1 tsp lemon juice
1 tbsp tahini
1 tbsp extra virgin olive oil (plus additional for serving)
2 tbsp reserved juice from chick peas
1/8 cup water (plus additional if needed)
Parsley (optional)
Drain chickpeas over bowl, reserving liquid. Wash well in cold water. Combine all ingredients in food processor and blend until smooth (adding more water), making sure to stop and scrape the sides if needed. Keep in refrigerator until ready to serve at which time drizzle with olive oil and garnish with parsley. Serve alongside pita, veggies, or crackers.