This is originally a recipe from Janae. I adjusted the recipe a little bit from the original just to make it work a little better for 2 people. So, with all of the peppers, be prepared for a little heat with this dish. Cancy seemed to really like it & it comes together pretty quickly. It makes for a nice little weeknight dinner.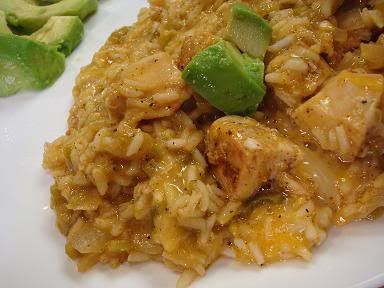 Chicken with Chile-Cheese Rice

Olive Oil Spray
2 boneless skinless chicken breasts, cut crosswise into 1/2-in.-wide strips
1 teaspoon coarse kosher salt
1/2 teaspoon freshly ground black pepper
1 medium onion, chopped
3 garlic cloves, minced
1 jalapeno chile, seeded and finely chopped
1/2 cup long-grain white rice
1 cup chicken broth
1 can (7 oz.) whole green chiles, drained and chopped
1 cup grated Monterey Jack cheese


1 cup cilantro leaves, coarsely chopped
Added (to season the chicken):
1 tsp chili pepper
1 tsp garlic salt
juice of 1 lime

Heat olive oil spray in a large frying pan (with sides at least 2 in. high) over medium-high heat. Sprinkle chicken with salt, pepper, chili pepper, garlic salt, and lime juice and cook, stirring often, until lightly browned but not cooked through, about 5 minutes. Remove chicken from pan and set aside.

Add onion, garlic, and jalapenos to pan, reduce heat to medium, and cook, stirring frequently, until onion is translucent, about 5 minutes.

Add rice and cook, stirring, 1 minute more, then pour in broth and bring to a boil. Boil rice 5 minutes, then reduce heat to a simmer, cover pan, and cook 15 minutes.

Return chicken to pan and cook until rice is tender, liquid is absorbed, and chicken is cooked through, about 5 minutes.

 


Remove pan from heat and stir in chiles, cheese, and cilantro. Serve immediately.