I was introduced to cake balls about 2 weeks ago. At work, we'll have a lobby event every so often where different vendors come in and bring product demos/info. After working your way through the line of product vendors, at the end there is always some treat/snack/goodie.
Well this time, at the end of the line there was a local baker with about 4 different flavors of cake balls. Everyone loved them. They were perfect little bite sized balls of chocolate covered cakey goodness.  I had to figure out how to make these.
So I Googled. If you Google "cake balls" you'll find your way to Bakerella's site. You'll want to head to her site. She's got the most detailed instructions & tips for making perfect little cake balls. Here's the short & sweet of how it's done…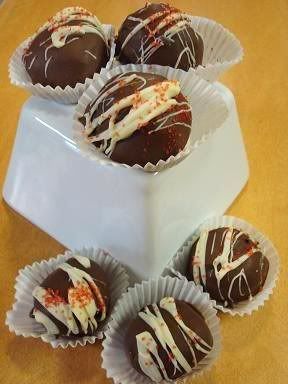 Red Velvet Cake Balls
1 box red velvet cake mix (cook as directed on box for 13 X 9 cake)
1 can cream cheese frosting (16 oz.)
1 package chocolate bark (regular or white chocolate)
wax paper

After cake is cooked and cooled completely, crumble into large bowl.

Mix thoroughly with 1 can cream cheese frosting. (It may be easier to use fingers to mix together, but be warned it will get messy.)
Roll mixture into quarter size balls and lay on cookie sheet. (Should make 45-50. You can get even more if you use a mini ice cream scooper, but I like to hand roll them.)
Chill for several hours. (You can speed this up by putting in the freezer.)
Melt chocolate in microwave per directions on package.
Roll balls in chocolate and lay on wax paper until firm. (Use a spoon to dip and roll in chocolate and then tap off extra.)